---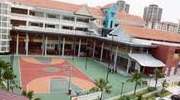 JURONG SPRING CC
Jurong West 52, Singapore 649296.
Tel: 6562-4066
---
INSTRUCTOR
Goh Yeow Tin Sensei, current instructor for Jurong Spring CC, has good inter-personal skills acquired from involvement in community and social work for the past 25 years. He is among the early students who trained under Chief Instructor, Francis Chong Sensei. He is familiar with the philosophy and principles of Shin Shin Toitsu Aikido and Shin Shin Toitsu Do.
Goh Yeow Tin had attended various Ki-Aikido workshops conducted by the late Iwao Tamura Sensei and Children programme in Singapore. He is also the Chairman, Aikido Ki no Kenkyukai (Singapore) Management Committee, who helps to look into the administrative and promotional matters of the organisation.
In 2000, he assisted Alice Sensei, Assistant Chief Instructor (ACI), to pioneer the first Ki-Aikido programme for Children. Together with Francis Chong Sensei and Alice Sensei, he was instrumental in setting up Jurong Spring dojo in 2007. He strongly believes that Shin Shin Toitsu Do helps to improve health and well being for all, but more importantly, to develop a disciplined way of life.
Currently because he is actively assisting various grassroots organisations in helping the less fortunate, Goh Yeow Tin Sensei has entrusted the training of Shin Shin Toitsu Do and Shin Shin Toitsu Aikido to his assistants, Zul Zee Sensei and Lee Hock Sensei.
UPDATE: THERE IS NO CLASSES AS THE CC IS CURRENTLY UNDER RENOVATION
CLASSES
Adult Class: 12 years old and above
Children Class: 5 years old to 11 years old
Day/Time:
1) Sunday, 3.00pm – 4.30pm (Children's Class)
2) Sunday, 4.30pm – 6.00pm (Adult's Class)
Frequency: 1 session once a week, except Public Holidays and Eve of Public Holidays
Fees:
S$80 for 8 sessions (Passion Member)
S$85 for 8 sessions (non-Passion Member)
---
Training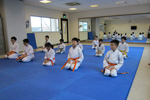 – Kids Class
---